It's going to be a mess
We're going to Joburg for the Electra Expo 2022
Look, I know it may be a bit far for some of you to come and see us on stand C29 in Exhibition Hall 8 at the Electra Expo 2022 but it might be worth the effort. We're going to let Bob have another go at trying to be nice to prospective clients.  If you missed my post on Bob and his marketing approach, please catch up here. In fact, thinking about it, we might video some of the interactions for you to witness.
We will have Austin Warnstrom there too, so, a zany mix of Californian craziness coupled with Mardy Bob.  Thinking about it, I might need to up the insurance.
Here is the line-up.  It reads like a disaster movie.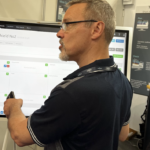 Bob Newton - Customer Services Director and general mardy fellah
Bob, known in the industry for his 'no prisoners' approach to marketing and customer care. You don't like it? You have questions? Need to think about it? Best not deal with Bob.
Austin Warnstrom - Head of Sales, Global and non Global
Californian, incapable of surfing but can put on a great BBQ.  A skill which we will try to put to use at the expo.  We'll bring fire extinguishers.
Adam West - no, we are not going there with your Batman puns. Just leave it.
Adamski is there to woo the wonderful punters with his demo abilities.  Jeez, if he wasn't there we may as well pack up. He's the one on the far left with the 80s boy-band haircut. He would have waltzed into Duran Duran.  Ignore Adrian in the middle, it would take too long to explain.
Mark Radley - Co-founder, non-coder, passable consultant.
I'm here to charm and schmooze.  I find the most effective method for avoiding accountability at these events is to pretend you are on a very important call with the investors. I couldn't find a decent photo so had to load this one from 96.  The tattoo was added later. Anything to get into the movies.
See you there - it's going to be something else
The full suite of GENEO Software
GEN-OPS1 - SaaS platform for building and governing brilliant standards. Looking after the full cycle of a standard from cradle to grave and tracking competency.
TEMPO - optimising maintenance and long cycle work
my-CI - a mobile app for leaders to drive Continuous Improvement