Gruelling, thankless, mind-numbing work interspersed with moments of manic activity... 
If you've ever been on one of these, peddling your wares for 3-4 days, then you know what I'm talking about. Here are a few survival tips:
5 Useless Lessons for Exhibiting at an Expo
Lesson 1 - Make sure you are with people you like.
Teamwork is everything.  Get along to move along. Well we failed on that front. 
It took Orkun about 30 minutes to get on my nerves.   He's so organised, so impeccably well turned out and he is sooo nice to boot.  Standing opposite Orkun is like looking into a mirror of your imperfections. Everybody loves Orkun and therein lies the problem.  Also, as you can see, he's not that impressed with my UFC training. He's a better dresser, better linguist, better snowboarder (that really hurts) and just a better person. And no, we didn't close the deal with the engineer in the brown leather jacket. We miss him and wish him well.
Lesson 2 - Don't be mardy
For some reason, having a mardy face doesn't seem to attract people to your stand.  For those not of the British Isles, mardy is another term for grumpy, or in the GENEO camp, mardy is synonymous with Bob. In fact we call him that a lot.  Bob-The-Mardy we call him.  He is so mardy we made him the Customer Services Director for GENEO Software in the belief that he might find his softer side. He hasn't.
He also runs our graduate training programme.  Most have left. 
Just look at this photo.  That's Adrian trying to give Bob a few pointers on the new app.  Adrian is one of the few grads that has lasted the course.  We think it's due to an emotional disconnect or some rhino hide in his confidence.
If I can mix my movie similes it's like watching the sergeant major from Full Metal Jacket versus... well any poor soldier from Platoon, Dad's Army or Full Metal Jacket for that matter.
Or how about this one. This is Bob in action at the expo with a potential client.  Did he play nicely?  Did he go easy on them for a while? No.  He wanted to know why they were on a jolly from work and hadn't been in touch earlier about our SaaS systems.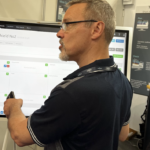 It is a thing to behold.  The threatening poke at the screen with his phone. The jutting jaw.  The look of mardiness... I'm pretty sure he ordered fifty press-ups before they left the stand.
So folks, Lesson 2: leave your Bobs at the office. 
Take nice people with you. They close deals and build your brand.
Lesson 3: Don't take lazy people with you to an Expo
Yes, that's right.  Lazy people have no place in your company. Find them and get rid of them.  They are anchors, wastrels, leeches. This is Jess.  Don't be taken in. She looks like a nice, kind person, but she's lazy. 
Wait. Before you judge me too harshly, let me explain.  She was drafted onto the expo team to visit other stands and convince them to pay us a visit. Armed with brochures and a sunny disposition - something Bob could do with - we tasked Jess with drawing in the weary expo-warriors to our stand for some banter and a look at our software.  For the first two days we thought she was on top of her game.  The brochure stacks were disappearing faster than we imagined.  We were close to ordering more when Chris Jones, a fellow director, caught her leaving piles of brochures on seats and tables outside the Expo itself.  It gets worse.  Most of the brochures were located within 15 metres of the Costa Coffee outlet next to the main entrance.  We are not sure how many frappuccinos with caramel and shots of vanilla had been consumed on the company credit card but let's say we figured out where Jess had spent the last 2 days. Jess was truly rumbled when the facilities manager asked us to collect the 'GENEO' litter from the hallways.  She claims it was showing initiative as the brochures were poorly structured and had terrible syntax. "They were best served as place mats for drinks and partially eaten croissants. More value in keeping them away from the punters." were the words used as I recall.  We couldn't argue with the syntax comment. The credit card is now safe and Jonesy is quietly taking lessons on how to divert accusations, put up smoke screens and obfuscate to avoid disciplinary action.
Lesson 4: Use young people.  They know stuff
I'm a director in a software company.  I can't code. I'm the the one that can't remember his password. I'm the one that sends texts with full grammar. So when I'm past the elevator speech and am asked a question which involves any layer of profundity by an interested party, I wheel out the youth.  It's just great to watch the energy and the enthusiasm.  They are bright and shiny and so full of zest.  
I can't explain this.  It's beyond me.  But here are our young super-jets trying out some headgear with a fellow expo-warrior.
But of the 5 lessons of surviving an expo, this could be an important one. 
Lesson 5: Take toys, expensive, useless toys.
This is Adam, one of the super-jets.  This was his idea. He will pay for it.
It's like having a cockapoo puppy on a leash.  No-one can resist.  I would hazard a guess that 80% of the people that came to our stand were there to play with this bad boy.  I also believe that we were duped into buying it so that the young super-jets could while away the quiet time trying to do wheelies with a 4KG CAT D11. Here are 5 stupid things to do with a Lego CAT 11D dozer at an expo:
See if you can drive it off the glass stand and clear the laptop on the floor
Try and shovel people into the stand to learn about your software
Try to raise the coffee cup to your mouth using the bucket of the dozer
Wander around the expo with business cards in your D11 Lego dozer
See who can tolerate the most pain by jamming your finger in the dozer lever
5 Useless Lessons to survive an Expo - Summary
Send other people.
You're welcome
The full suite of GENEO Software
GEN-OPS1 - SaaS platform for building and governing brilliant standards. Looking after the full cycle of a standard from cradle to grave and tracking competency.
TEMPO - optimising maintenance and long cycle work
my-CI - a mobile app for leaders to drive Continuous Improvement